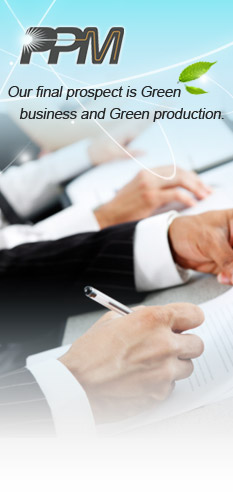 QUALITY
Green products :
Green product Policy
In order to keep sustainable development , reduce the broken of ecological system , keep human's health and safe environment ,PPM brings its system in line with related international environment  law and all kinds of products meet all related standards (ex:Europe RoHS,WEEE,REACH…..etc).Otherwise ,we also ask supplier can't use limited chemical substances and comply with global standard of environment protection.
PPM promises that we will comply with international environment law with customer and supplier as main goal and share the responsibility of protected environment . Our environment control goal meets environment law and combines with international trend . Our final prospect is Green business and Green production.
Green lend-free process:
In order to cope with limited chemical substances for Europe RoHS, PPM have clear mark and plan for involving mixture Since 2006 year, all products have met Europe RoHS.
Declaration of RBA:
PPM commits itself to comply with the Responsible Business Alliance (RBA).
And PPM expects our suppliers will also comply with the policies including no "con-
flict Minerals" policy.
For more information about RBA, please visit below web links:
http://www.responsiblebusiness.org
Declaration of Non-use Conflict Metals :
Conflict metals are metals such as gold (Au),tantalum(Ta),tungsten(W),cobalt(Co),
Palladium (Pd) and tin (Su) derived form minerals being sourced from mines in
Democratic Republic of Congo (hereinafter "DRC" )conflict areas which are con-
trolled by non-government military groups, or unlawful military factions. Illegal
Mining profits by local military groups in the eastern DRC are contributing to human
rights abuses, environmental degradation , and theft from the country ' s citizens.
For more information about the Conflict Minerals issue , you can find information as
below web links :
http://www.responsiblebusiness.org/extractives.htm
http://www.responsiblemineralsinitiative.org
PPM expects our suppliers to comply with the Responsible Business Alliance and to only source materials from environmentally and socially responsible suppliers. PPM has taken actions to ensure that our suppliers comply with these expectations;however, due to the complexities of the metals supply chain, we are currently unable to verify the origin for all metals used in our products. In support of this, PPM will commit to:
1.Requesting that our suppliers report to PPM immediately if there is conflict
Minerals used in item supplied to PPM.
2.Requesting that our suppliers undertake commercially reasonable due diligence
with their supply chain to assure that metals used in items supplied to PPM are
not sourced from mines in conflict areas.

Declaration of corporate social responsibility report